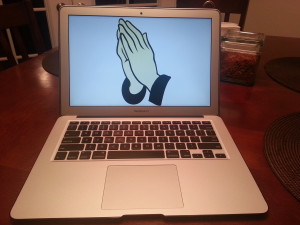 The Memorial and 10 Episcopal Resurrection resolutions received the Gunn treatment as Lent Madness Supreme Executive Committee Member worked his way through every single resolution coming to the 78th General Convention. Scott is a part of the group that created the Memorial and resolutions. While it is no surprise he writes in favor of them, his posts do offer perspective on this work.
A Memorial to the Church
He writes of Memorials in general that "Memorials provide a way to shape conversation without resorting to resolutions. At their best, memorials can guide our whole church into new places. That is certainly the hope behind the memorial that I played a small part in drafting." Of the Memorial to the Church found here at Episcopal Resurrection, he wrote with Susan Brown Snook in a Living Church article "Yearning for Transformation". In the post on Memorials, he adds, "I pray and hope the General Convention will choose to lose its life for Christ's sake and to do bold things for the Gospel."
The Resolutions
The links to the resolutions are links to the blog posts where Scott Gunn writes about the resolution. Some of his thoughts are excerpted below for this Reader's Digest style version of Episcopal Resurrection Tangled Up in Blue.
D003 – Amend Article V of the Constitution
At present, when a diocese wants to merge with another diocese, each diocese must have a bishop who agrees to this, along with the diocesan convention (and many other layers of approval). This resolution amends the constitution to replace "bishop" with "ecclesiastical authority" so that a standing committee could fulfill this function in the absence of a bishop, for example if a bishop had retired but a new one had not yet been called. This also strikes the provision, "In case the Episcopate of a Diocese be vacant, no proceedings toward its division shall be taken until the vacancy is filled." It is precisely during transitional moments that dioceses might be likely to have the flexibility to merge, so we should allow them to consider this possibility. The merger still requires other steps, including the approval of General Convention, so this provision could in no way result in too-hasty mergers.
D004 – Create a Task Force to Study Episcopal Elections and Appointments of Bishops
We've had some "issues" with bishop searches lately. For one thing, our House of Bishops seems to be getting less diverse, rather than more diverse. Our current process is controlled by a set of documents not widely shared in the church, and we have easily-identified problems with the selection of candidates who may not be fit to hold episcopal office…There are other provisions, and I encourage you to read this entire resolution. Whether we are getting the best bishops — called and qualified by the Holy Spirit — is one of the most important leadership issues our church will face in the coming decades. Let's get this one right.
D005 – Creating a Capacity to Plant Churches
Basically, the idea is that if we set our mind to this task, and if we fund it, we can actually turn the ship. We can start new congregations! The funding request is pretty large, at $6,433,800. There's an additional $2 million to be raised by the development office. Actually, I think that money won't be hard to raise. Philanthropists who love the Episcopal Church (and these really do exist) will whole-heartedly respond to a funding opportunity that makes this much difference. This bold resolution isn't very long, so you can read all the resolves and the explanation in a few minutes. Don't let its brevity make  you think it can't do much….

I can't emphasize enough how important I think it is to pass and fund this resolution. Sure, it's a lot of money. Can we afford it? I think so. But the haunting question is, can we afford not to get serious about planting church? I hope General Convention will take a big risk for the Gospel and do this bold thing. Thousands of lives will be changed, and our church will have new shoots of growth.
D007 – Amend Canon III.2.1 and Canon III.12.4(a)
This resolution attempts to make it easier for two or more dioceses to work together, should they wish to explore shared ministry…We need more flexibility, but this resolution would maintain current requirements for each diocese to have its own standing committee and finance committee.
D008 – Amend Article I, Section 1 of the Constitution
This allows our current canons to be licit again (once this constitutional change goes into effect), and it also allows the President of the House of Deputies and the Presiding Bishop to call for a joint session if they wish, provided that each house approves of that session. At one time, I thought a unicameral General Convention was a grand idea. Now, I'm not so sure. But I do think it might make sense to at least open the constitutional possibility of a single-house deliberation at some future time, and we certainly want to fix what appears to be a constitutional problem with our current practice.
D009 – Revitalization of Congregations
While some of our existing congregations are healthy and thriving, most are not. I suspect that more congregations than we'd care to admit are teetering on the edge of financial viability. If passed, this resolution would create a network dedicated to congregational revitalization and add a staff person to oversee that work. As an aside, networking is one of the functions best done at the churchwide level, where staff have the wide view to see what's going on in our church and to connect people doing similar work or facing similar challenges…I can say this as a former rector who worked very hard to revitalize a congregation, there are not enough existing resources to help with this work. It's essential to bring in trusted outside voices to guide leaders and work with members of a congregation. This is a real thing, and we need it. If this resolution were only partly successful, it would be much, much better than our current situation.
D010 – Clarify Officers of the Episcopal Church
This resolution is massive, and it does all sorts of things. Adam Trambley, who is part of the Episcopal Resurrection group (including yours truly) who wrote this resolution, has written a thorough blog post about the resolution and what it does. Go read Adam's post. I'll wait. The resolution suggests something along these lines in an effort to align responsibility, authority, and accountability for our churchwide offices…If we do nothing else at this General Convention with church structure, I hope we will clarify roles of our churchwide leaders. We need our leaders to be able to, well, lead…The Executive Director is attractive, I think, because it makes lines of authority clear (our board of directors, Executive Council, ensures that the ED is following identified priorities) and it frees up our Presiding Bishop to be a visionary, not a manager.
Scott's take on this resolution is longer than his post on most of the resolutions. These full text Tangled Up in Blue: Provinces is well worth the few minutes it takes to read. He summarizes the key points here:
Setting aside the idea that the burden should be on those who advocate structural maintenance in our day, I think there are several compelling reasons to get rid of provinces.

We can accomplish the good things that provinces are doing without needless a layer of bureaucracy and complicated polity.

We can have more flexibility for networking across the current provincial boundaries. Maybe Western New York would rather meet with Northwest Pennsylvania? Or maybe small, rural dioceses from across much of the nation would find it beneficial to gather at times.

We can spare ourselves from constituting nine copies of some committees, when in reality we only need one for our church (e.g. clergy discipline courts of review).

We can size churchwide committees appropriately and trust our presiding officers to keep an eye on geography as a criterion for diversity.

We can have a consistent, churchwide process of elections, especially for Executive Council.
D013 – Budget Process for The Episcopal Church
This resolution clarifies the roles of various entities and officers in the preparation of the budget. Perhaps more important, it turns the voluntary asking from dioceses into a mandatory assessment. Of course, there is a provision by which a diocese can request a waiver due to financial exigency. If dioceses do not pay their assessment or receive a waiver, they cannot receive loans or grants from the Episcopal Church, and persons from that diocese cannot serve in any churchwide office…Do have a look at the full wording of this resolution which clarifies the budgeting process a great deal. If we can make our budgeting process better, we can have better budgets.
D019 – Conducting an Online Digital Evangelism Test
The work of this resolution is based on "inbound marketing" which flips things around. We live in a world in which people Google for answers. You provide them with some help, and invite them to make further connections. It's driven by the seeker, and the relationship can result in an invitation to a specific church, if we use this technique in the Episcopal Church…

This is a time in our church to invest in growth. We can't rely on our old evangelism strategy of being the establishment church or of putting out an "Episcopal Church welcomes you" sign and calling it day. People are using the internet to find what they want, even meaning itself. We need to be there where we can connect people with local congregations and the transformational power of Jesus Christ.
Scott's full Tangled Up in Blue project is a great gift to the General Convention. His page linking each resolution to his take on the proposal as it stands prior to committee work is online here: www.sevenwholedays.org/gc78/gc78-resolutions/